Situated in the town of Zakynthos, a short distance from the city center and offers guests a welcoming atmosphere, friendly service, comfortable accommodation, and many amenities.
"Palatino hotel is the best hotel in Zante town"

My wife and I stayed for one night on 4 June 2014. Staff very friendly and concierge very helpful. Nice rooms and very good breakfast . The view from the room was excellent , distance from Center only 200 m. Very good hotel and manager!

– Anton
The Perfect Place to Escape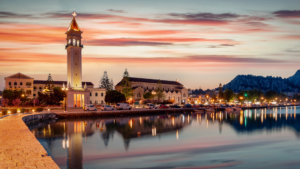 Hotel Palatino – Zakynthos Zante Town Greece The position is in a quiet area, only 100m from the seafront and tennis courts making Hotel Palatino ideal for holidays, weekend breaks, corporate accommodation, conferences or events.
Our reception staff is ready to serve you and help you with your every need.
The 62 rooms, 4 Family rooms and 2 Junior suites with luxurious furnishings all have their own balcony overlooking the hills of the city or the blue of the Ionian Sea and have all the necessary facilities to make your stay a comfortable and enjoyable one.
In our conference center, consisting of 3 rooms, we can accommodate meetings and events for up to 300 people. It is luxurious, air-conditioned with all the media facilities you may need for the conference.
The comfortable and tastefully decorated rooms, the Palatino Café & Cocktail Bar, the Trinity restaurant, all combine to make the Hotel Palatino an ideal place to stay.
Activities
The island of Zakynthos is famous for its natural beauties and exquisite beaches. Except for sightseeing, it also offers a variety of outdoor activities for all those who seek challenges and pure fun such as:
Trekking
Water sports
Tennis
Basketball
Cycling
Sailing
Events
Zante is a very popular destination throughout the year. Visitors from all over the world come to enjoy the sun and sea during summer. In winter there are many interesting events that take place both in town and in some of the bigger villages of the island such as:
Carnival
Easter
Giostra di Zante
Saint Dionysios Holiday
Saint Dionysios Festival
Village Festivals
Booking your stay is
quick and easy

Book direct, through our official website and get immediate confirmation. Check prices, availability and special discount packages for various periods.